English:
CD-review
Ina Martin
18 augustus 2021
The Japanese symphonic metal band Ancient Myth released their new album, ArcheoNyx, on 7th July. It's melodic, it's fast, and it has everything anyone might want in a quality metal release. Musically, it reminds me of another Japanese band, Jupiter, whose guitarist HIZAKI makes a guest appearance. However, Michal's voice is quite unique in the genre, with its mid- to low range, which can still reach the height of an operatic soprano after her recent training in classical/opera singing.
The album's theme revolves around the concept of night and darkness (archeo = ancient, nyx = goddess of the night), and the music is suitably fitting, with soaring guitars, gentle string instruments, the introduction of traditional Japanese instruments, and the metal rendition of the operatic aria Der Hölle Rache kocht in meinem Herzen.
---
The intro, Abyss, reminds me of the Interview with the Vampire soundtrack, with slow, haunting vocals which build up into a climactic crescendo which gives way to Chaos to Infinity and River of Oblivion. Both tracks are fast, yet melodic, with Michal using her lower vocal range, unlike in the latter part of the album, where she predominantly utilises her operatic range.
Song of Siren slows down the tempo, Michal's vocals acquiring a light and ethereal quality which matches the string instruments. Yet there's still space for a killer guitar solo halfway through, cresting like a wave which then gently laps at the shore of the final part of the song.
The heavy guitar riff in the beginning of Crimson Stigmata is reminiscent of Nightwish's intro of Slaying the Dreamer. It has all the ingredients of a metal classic - killer guitars, heavy drums, and for a good measure it also throws some more string instruments in the pot. Michael's vocals change to operatic in anticipation of Der Hölle Rache kocht in meinem Herzen. - the Queen of the Night's aria in Mozart's opera The Magic Flute. This is opera as you have never heard it before, and it kicks some serious a**. The metal treatment fits like a glove. My only, and very slight, criticism is that Michal's pronunciation could be a little clearer, but given that she is singing in a language which I believe is not overly familiar to her, it's understandable that there might be some difficulty, and it by no means reduce the impact of the song and the impressiveness of Michal's soprano.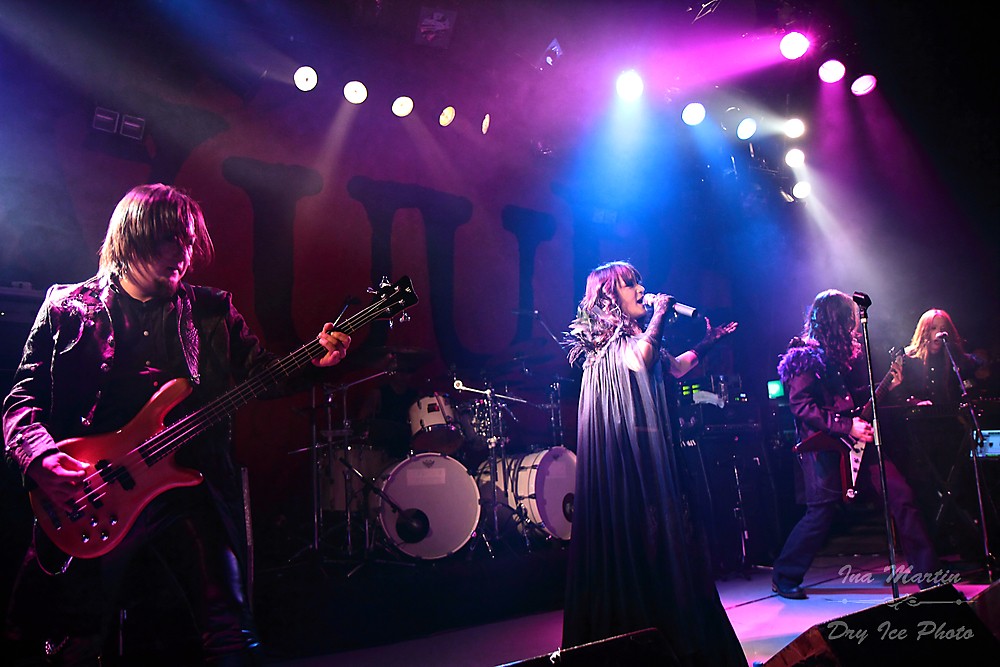 Photo: Ancient Myth at Metal Female Voices Fest Japan Edition, April 2019
The beautiful ballad Hypno Temptation is a personal favourite which never fails to make me feel quite emotional. The theme is the love between an immortal woman and a mortal man. The weeping string instruments and Michal's expressive voice combine to convey the pain of the woman when she imagines her life without him, while he's asleep by her side, and laments that they can't be together for eternity.
The instrumental Last Light continues the wistful theme of Hypno Temptation with plaintive strings, in contrast with the following Meteor Hunter's fast drums. In this energetic song Michal uses her full vocal range, from low to high, and the result is epic. It's the one of the fastest songs on the album
天狼大神 (Tenrou Ookami) introduces traditional Japanese instruments (shakuhachi, shamisen, koto), with a touch of a chanting choir. It starts off deceivingly slow, but quickly gathers speed almost equal to that of Meteor Hunter. I would definitely recommend both songs to fans of speed metal looking to broaden their horizons.
After two fast songs, it's time for another break. Träumerei: Luna is a mid-tempo tune with an abundance of lilting piano and strings, spiced up with a couple of guitar solos.
The closing song, Zenith, is another fast track, and at just over seven and a half minutes it's the longest song on the album. I like the contrast between the explosive music and Michal's slower operatic singing, as well as the beautiful harmony between the vocal and the string instruments.
ArcheoNyx is a solid album from start to end, and after a month of playing it pretty much every day I am still not tired of it. Its energy is infectious and always lifts my mood, and for activities during which vocals might prove to be a distraction, or if you simply want to relax with a softer version of ArcheoNyx, the Deluxe Edition of the album has a bonus CD with slower orchestral versions of all tracks. It has its own charm, though I find that I miss the vocals, which are mostly replaced by string instruments. However, it's a perfect background for quieter moments and will not disappoint you, should you decide to choose that edition.