English:
Festivals
Van Muylem
27 oktober 2016
Getting up with the company of a headache (I haven't touch any alcohol), still tired and feeling cold but yet again not wanting the miss the opening band and going for it: that's the spirit! Wieze, here we go!
---
Mercy Isle: as I have seen Kassy at the unplugged session and reviewed her new CD I knew this would be a passage on stage that would blow me out of my shoes! What a voice! I was looking forward to see her with her band and none of them disappointed me, on the contrary! They are opening with fire, passion and a great spirit! Thanos (Enemy of Reality) helps them with this first one and really makes it even better. I had such a great time that I forgot to take not of which song it was. Uncaged is the next track and says it all: they play uncaged, freed, with passion and fire! No One will Save You sounded great on CD and is live even stronger: it gives me goosebumps! Kassy's voice goes from opera, to normal singing, to grunting and growling in a moment! She's like having a walk in the park whilst walking and jumping up and down the vocal cords! Incredible and what a volume! She also has a lot of charisma and knows how to act on stage, just like she can get a tear out of you with a fragile note and melancholia. Her band is as powerful and skilled as she is, making it the perfect match! Even her guitar player and synth guy know how to sing. The synths also play an important role during Storm. I notice a lot of clapping hands during The Ghost, it's clear that this is the release party for the new CD Undying Fire; so yes it's party time on stage! I see a lot of people running to the back once it has been announced. Kassy has more nice extras for us as Lindsay Schoolcraft (Cradle of Filth) joins them to sing the last song: Come to me. It's the perfect end for the perfect set! We want more! We want more! The roof is on fire!
Skarlett Riot: imagine 4 youngsters who play for he first time in Belgium and they come over from the UK. Well, these 4 talented ones are here to prove they have a bright future and just confirmed all the good stuff I was hoping for (after my review of their brillant EP)! Skarlett has a strong voice and knows how to act on stage and how interact with the fans and the crowd. You wouldn't say these are youngsters as they play and perform as if they are doing it for ages and trained hard to master and craft their songs the way they actually do! I recognize songs from the EP and some older tracks, but just focus on the great performance and am getting drawn into the stage act. I now just get the confirmation of why I was so lyrical about their EP and that is awesome! A song like Adrenaline is what I feel whilst watching them. I can see that the crowd enjoys it too and for some it even looks like a good surprise. They last song is a good song to end with: Scream My Name. I hope to see them back on stage soon as they really can get further!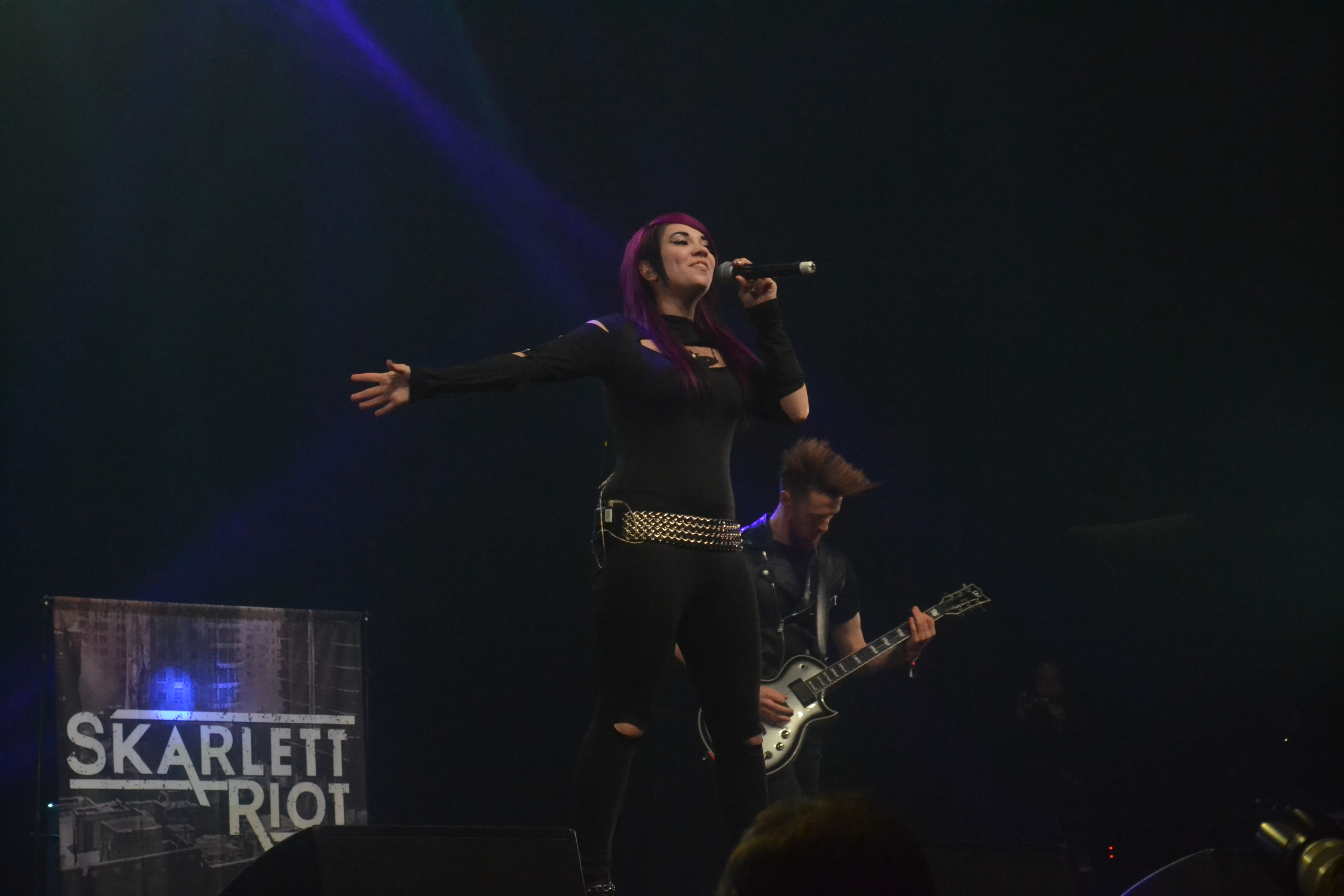 Blackthorn: well only women on stage, the perfect credo to book them here at MFVF! It's the first time I see them (and their first time in Belgium), bringing trash metal, speed metal, heavy metal with what I call opera vocals and grunts. Fact is that their singer and guitar player have two different voices that match really good! The violin is a great asset on stage, giving it that special touch. Cool to hear the vocals go high and low like 1,2,3 … and what a powerful voice! They also play a great Anorexia Nervosa cover and end in Russian. It was a nice trip to the Balkans and had fun!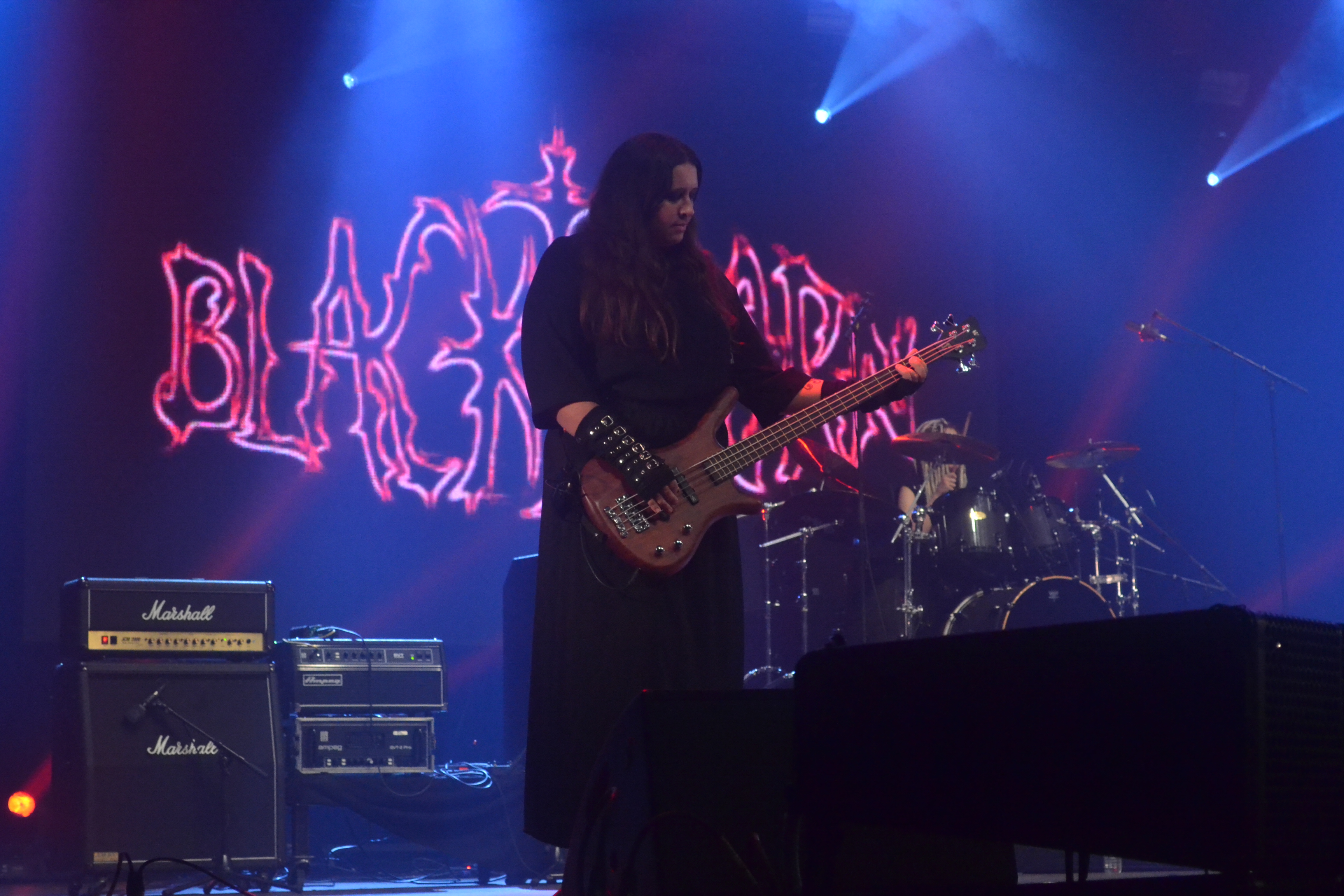 Feridea: Katra Solopur has a soft voice (a tiny bit too soft), whilst the drums explode, the guitars play like on fire and the violin player sounds like an angel caught between a fire. They are from Finland and are clearly having fun on stage. Their song Blaze of a Star (check the video) touches the audience, hand go up in the air, clapping hands and creating the right vibe. I like what I see, but am happy that I have some wax in my ears as the drums really hit hard. Somehow it feels like this is not the best band of the day, maybe next time better?
Whyzdom is a wise band from France (check out our interview Whyzdom). They have a cool choir on stage, adding strong vocals (not on tape like with some bands) and giving it a real live feel! I loved their last album and knew this would be a highlight, so it's always cool when that gets confirmed! They are smart people and perfect performers. You can feel that the stage is their natural place to be. I adore their symphonic sound, the great guitar play and nice drummer! You hear quality and a real professional band! Marie Rouyer is the perfect leading lady and stole my heart with her powerful vocals! Tears of a hopeless God is a heavy track and already sounds like a hit! Once again the crowd wanted more, but the lights went on and the sign was given to stop … I also wanted more, but hey: I'm pretty sure they will get booked pretty soon somewhere (and why not at Trolls et Légendes 2017 in Mons)!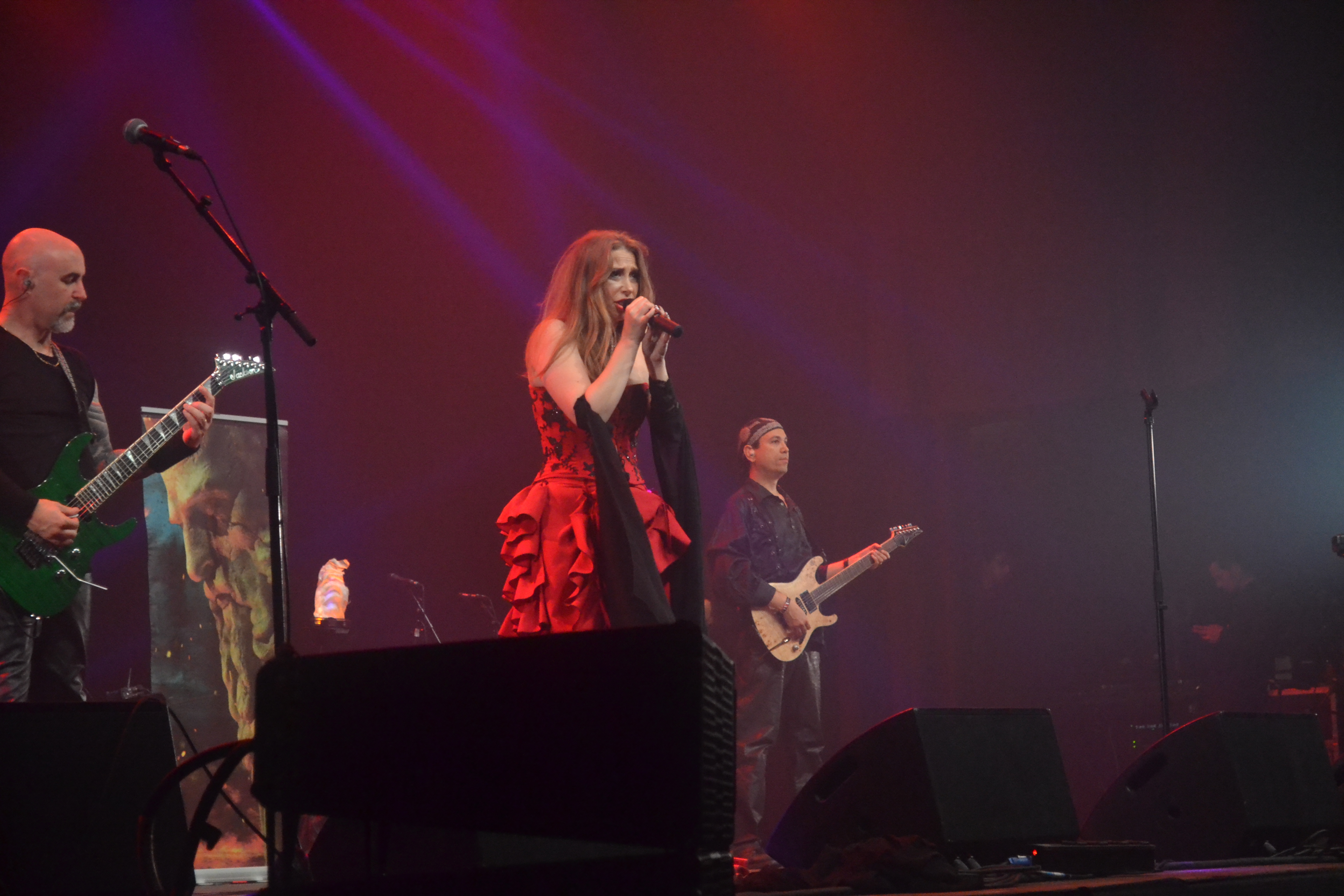 Enemy of Reality: I just reviewed their brand new CD and knew that this was going tob e a hit! I saw Iliana during the unplugged session (I have seen her already as a guest singer in the past and during the MFVF United) and she showed clearly her vocal talents! Today she's back with the full band and even sounds better than 2 years ago! You can feel the energy and what a voice! WOW! The fans go crazy and show their love for every single track. The old and new songs pass by as if played by a jukebox playing top 3 hits. I knew that Maxi (Jaded Star) would jump on stage, but my god: the reaction of the crowd was just overwhelming! Maxi did a great job and fired up the place! We are lucky bastards as also Kassy gets her moment on stage and shows off – once again – how good she can sing. And as you know all good things never come alone, so we also get another talent on stage with Chiara Malvestiti (Therion) to perform Showdown. It's yet another highlight on a busy day! The lights are turned on, but so are we!
Tristania: I have seen them on stage when I was much younger and watched Mariangela Demurtas on stage at MFVF in the past. It feels like watching a best off and the crowd is singing and screaming along: having a great time! I cherish the interaction with Kjetil Nordhus and Mariangela Demurtas as the synergy between both is just magical: this is symphonic metal heaven! Tender trip on Earth & Shadowman really sound great, followed by a track never played before Cypher: a beautiful and melancholic pearl sung by Kjetil on clean voice. Followed by other pearls like: Year of the Rat, Beyond The Veil, Libre, Number ... They end with a bomb called The Shining Path and leave me in trance!
Liv Kristine: I have seen her so many times on stage and could now even have a short chat with her and an autograph (whilst the signing sessions for Tarja get a no go). After all the troubles of the last year it looks like the perfect time to set the score and prove that she's allright! Well: I can confirm she's more than allright, is very friendly and good to her fans! The fans also show love and respect whilst she sings the first song Vervain. She stays a nightingale! Raymond (Theatre of Tragedy) joins her on stage from the second song on Venus (and looking at the reaction of the crowd it feels like a passage in heaven! It's yet another highlight! They even play together the first song ever written for Theater of Tragedy and it's clear a Theater of Tragedy night. I adore the cover Paris. Followed by Cassandra, Imagine (with that cool electro sound), Panic (a nice ballad) and so much more! Hell: Heavy metal is here to stay! They close this great night with Der Tanz Der schatten. The fans wanted more, but's Tarja time!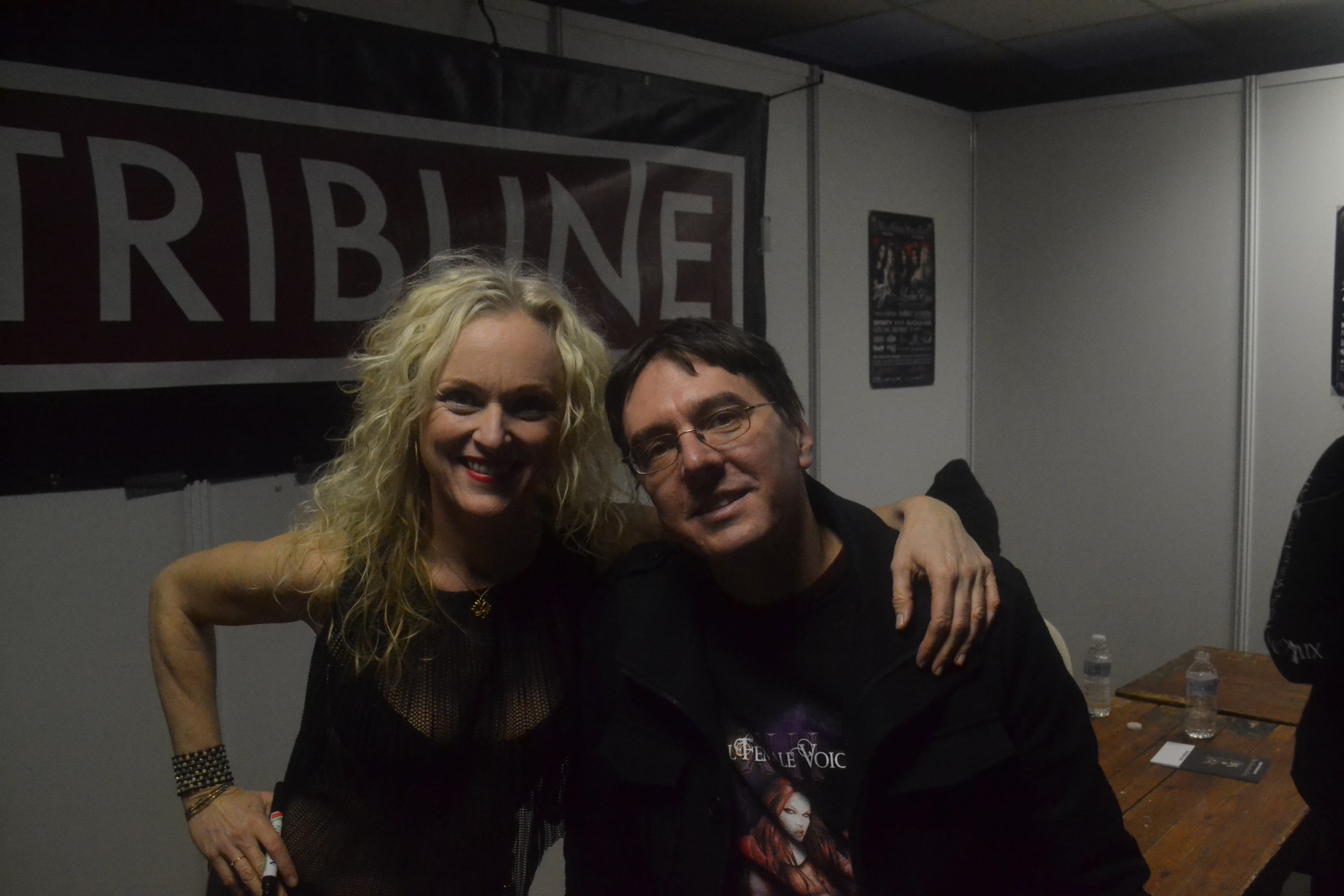 Tarja: is somehow not my cup of tea, but as I have never seen her solo I have a good reason to stay. I also see that after 3 days people are starting to get tired. It has been 3 magical days with lots of highlights and cool meet and greets! It feels like leaving one big happy family and even 3 days after the festival I can say I still feel the vibe and the drive. Tarja wants to keep us awake and starts on fire with No Bitter End, 500 letters, Eagle Eye, Demons in You … I see happy faces throwing out their arms for the last time, clapping and jumping up and down. The songs sound great, but her voice is somehow missing something, but looking around me it must be something personal. I hear a nice quote from her: happiness is good, but darkness is even better. She brings the darkness in the darkness of the night! And yup we even get a Nightwish cover in the set! Funtime! Slowly our metal friends leave the place, time to leave too as I have to go to work tomorrow.
I go home with a happy feeling and a lot of gratitude towards the festival and the people who made it all possible and hope they get the expose needed and the help needed. This is clearly a great festival and I hope to be a part of it in the near future too. I'm looking forward to it, but not without first sending all my love to all who contributed! Until My Last Breath!
Pictures: Filip Van Muylem