English:
Concerten
Van Muylem
7 november 2016
It's my first time at this great festival. I must admit driving from Brussels to Poperinge without booking a hotel close by is a bad idea (it's 130 km from my home). Over the past years I noticed great bands on the bill, but as I have 2 kids now (2 years and 8 years) it wasn't easy to free myself and find the energy to go and drive that far …
---
To start with the venue: it's a nice one, nicely embedded. Just like at MetalFemaleVoicesFest I notice a lot of smiling and friendly people. It feels like one happy family (from organisator to bartenders). I'm here for 3 bands I haven't seen yet on stage and even had a nice chat with two of them.
It all started with a duo from The Netherlands: Here Be Flames. Two energetic guitar players, drums, piano and other stuff on tape (industrial minded). It doesn't look professional, even cheap, but hey we are living in bad times were people get fired, organizing festivals starts to be impossible because of too high expenses, travelling costs more and more … These are bad economic times, but once they start to play you forget about it all and feel the heat of this talented duo. The guitar licks are great, just as the solo's (I even notice some Joe Satriani moments). Marcus Bodine is also a talented singer. Sometimes they sound melancholic but mostly fueled and vital. They haven't stolen their name! The fans of Deadcell (Marcus's previous band) are also getting some tracks, as Deadcell already performed here in the past. The reactions of the fans are clear: they love it! It was a nice start and a cool discovery.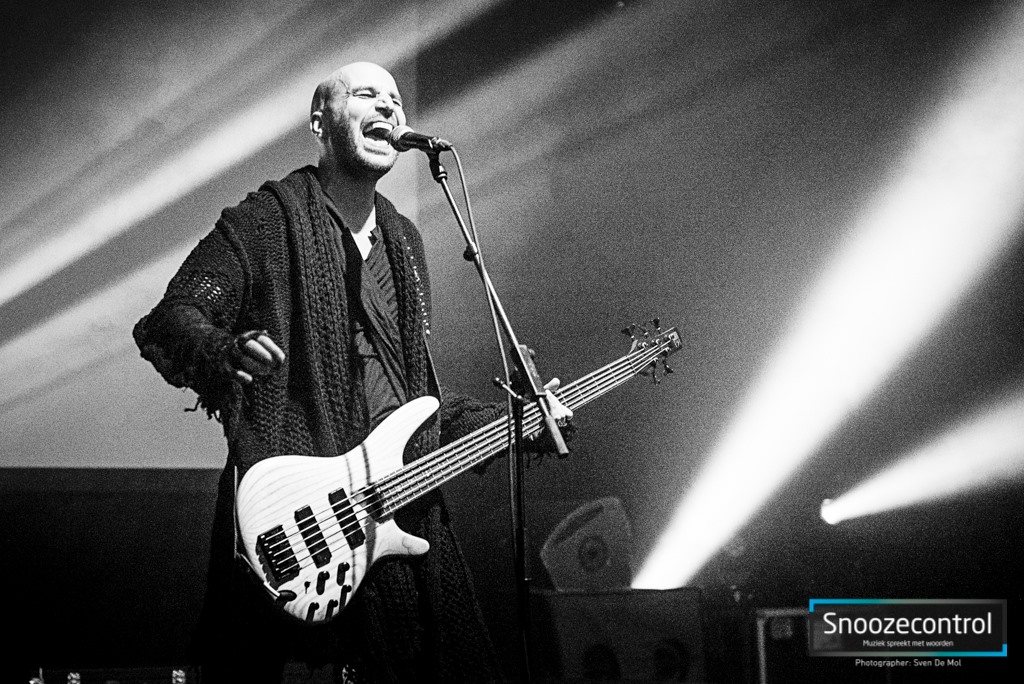 Up next are the talented youngsters from Whispering Sons. Just before their gig started I had a short chat with Ashley Dayour (he will perform with Near Earth Orbit later on), he told me he discovered them and really loved them, describing their singer (Fenne) as the better version of Nico (The Velvet Underground). Even the synth/modulator on stage attracted him, that says enough (right)? They sound like a mix between Joy Division and The Cure, with a frontwomen who doesn't stand still and gives it all: passion mixed with a hot and steam show (on fire)! I was really moved by what I saw. They won Humo's Rock Rally and I can see why: despite being young they sound and act like professionals with a lot of experience. I feel that they might have a bright future. The crowd adored it as they: danced, clapped, showed in any possible way that this was a highlight and I can only agree with all the people around me. I must see them again! Don't forget to check out the new version of 17 seconds (together with EX-RZ), proving that they can also perform a The Cure cover!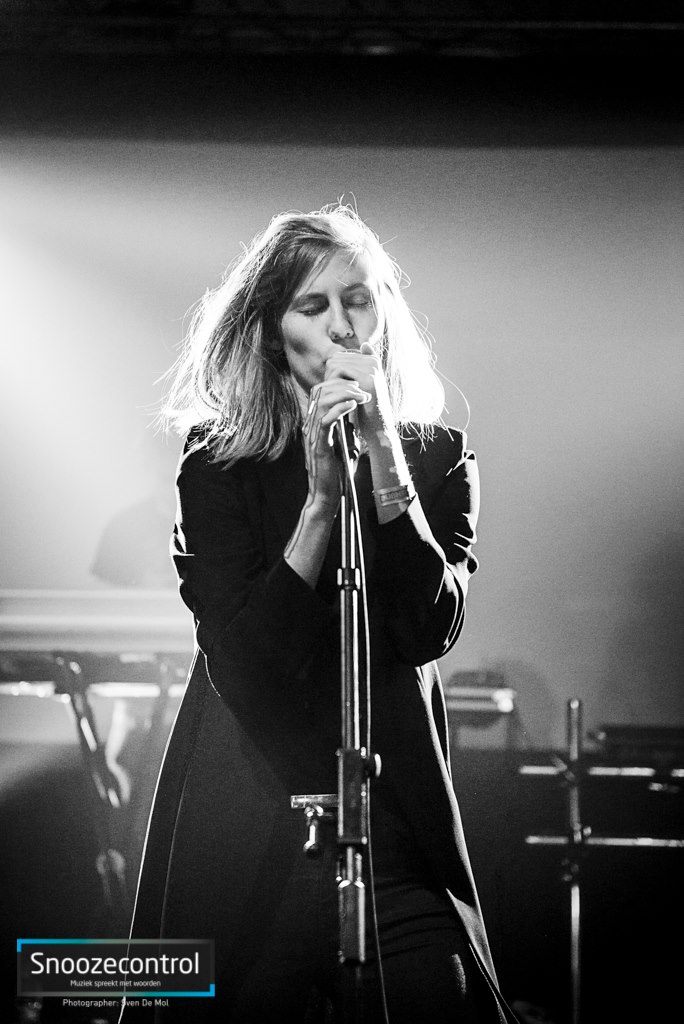 I would have switched both bands, but ok Der Klinke has a past. I noticed some technical troubles (during Las Fabricas, Our Dance in Darkness and My Frozen Heart): there was something wrong with the sound balance on stage (the voice was not loud enough) and the synth only started working after 3 songs. It's not the best way to start a concert, but it went like an old diesel car: slowly getting to a high and working hard to get there! We hear their old hits but also new material. Geert Vandekerkhof worked hard to stole our heart and please his fans. Once they dropped their version of She's lost Control they are launched, full speed and getting better with each song (also sound wise). I see more and more feedback from the audience and it's getting hotter in here! The Doll, In Flames and Liars are the other highlights in their set. They close off with a bomb and a great guest (yup with The Arch) performing together Where it Ends. We all enjoyed it!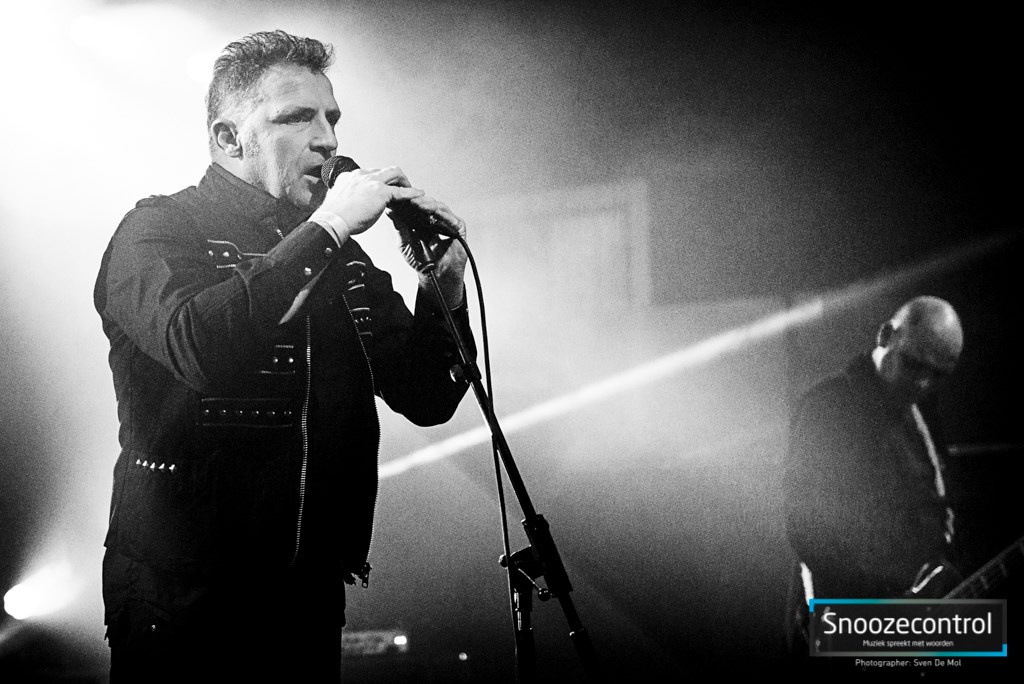 Daring is caring and so is programming Near Earth Orbit for the first time on stage in Belgium. I was looking forward to see this project of two stars on stage and wasn't disappointed! Artaud Seth (Merciful Nuns), Ashley Dayour ( Whispers in the Shadow) and Jawa (percussion) are backed up by 3 TV screens and one big screen in the back, sending out their message: 16th March 2034 will be the day of the extinction of all existence. The sound, the guitars and the vocals make belief in this message. The concept lives: we are doomed! We start with The Contact: a tribal touch and then Into The Void and deeper … Despite the negative message the music feels like throwing a party as in hey: we know we are all going die so let's forget about it and party until we die! The videos are pretty cool, the set is very hypnotic and the audience loves it! What a blast and what a show!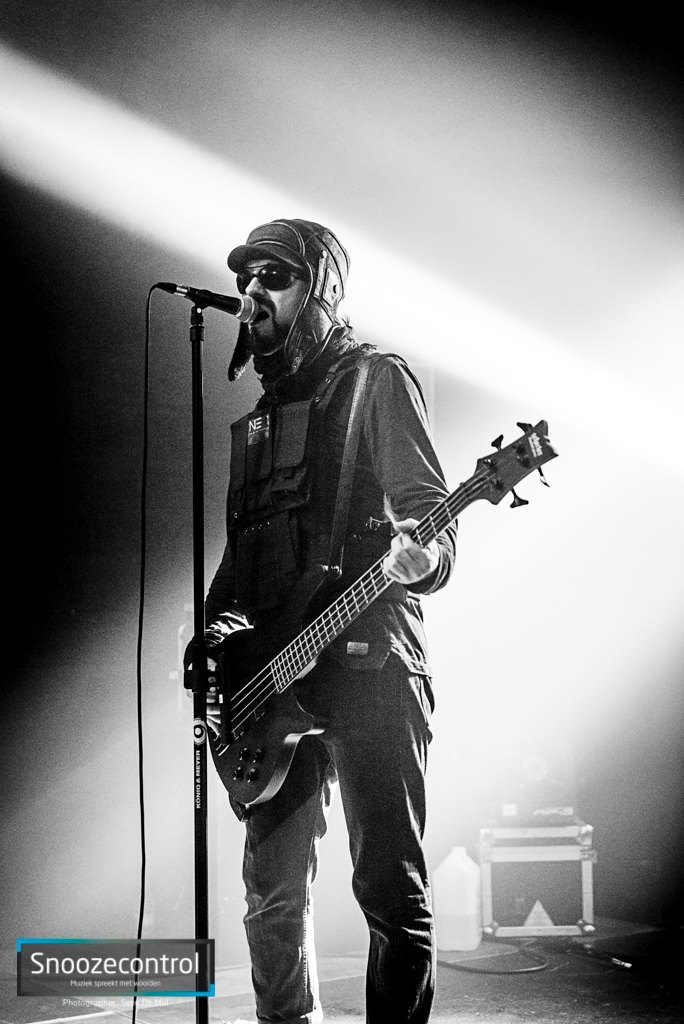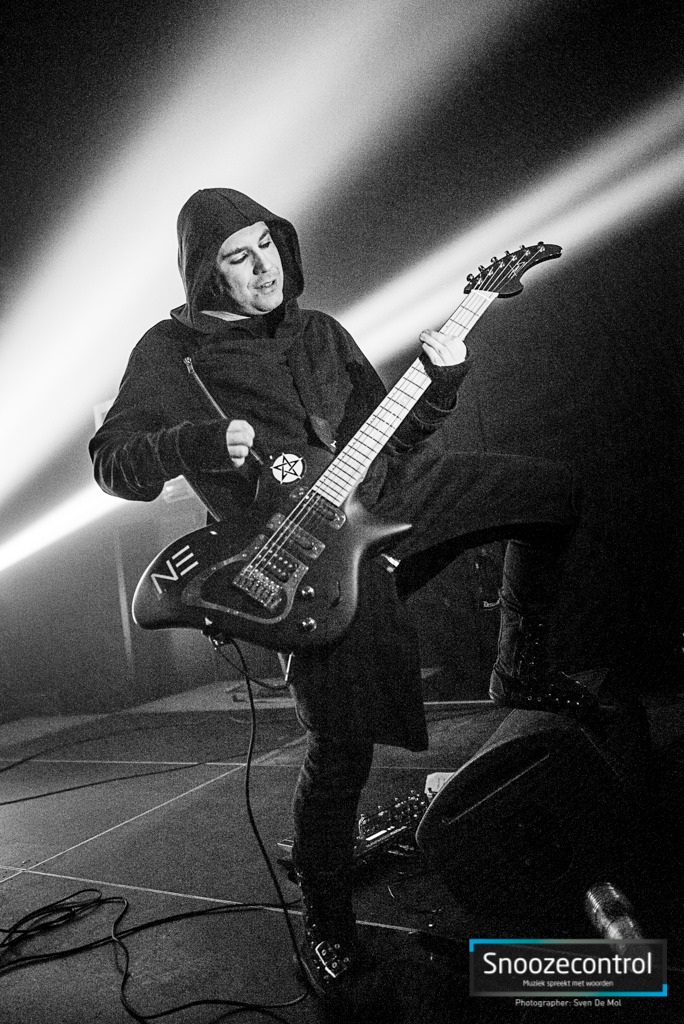 Doganov is another highlight: 3 guys who give it all! They bring a very interesting mix of genre's: metal, New Wave, EBM, Techno, Industrial and rock. Karl is a gifted performer and looks like the sexy version of the frontman Eskil from Covenant (and hey: hire him and put Covenant back on track, plz). Their set feels like dropping one bomb after another, don't care if it's old material or new material: they all rock and put the room on fire! People are dancing, clapping hands, having fun … Party time! It even gets better with the Front 242 cover: Catch the Men! They even get 2 encore's (highly acclaimed by the audience). It's incredible and just as the band: I hope they can come back for a third time!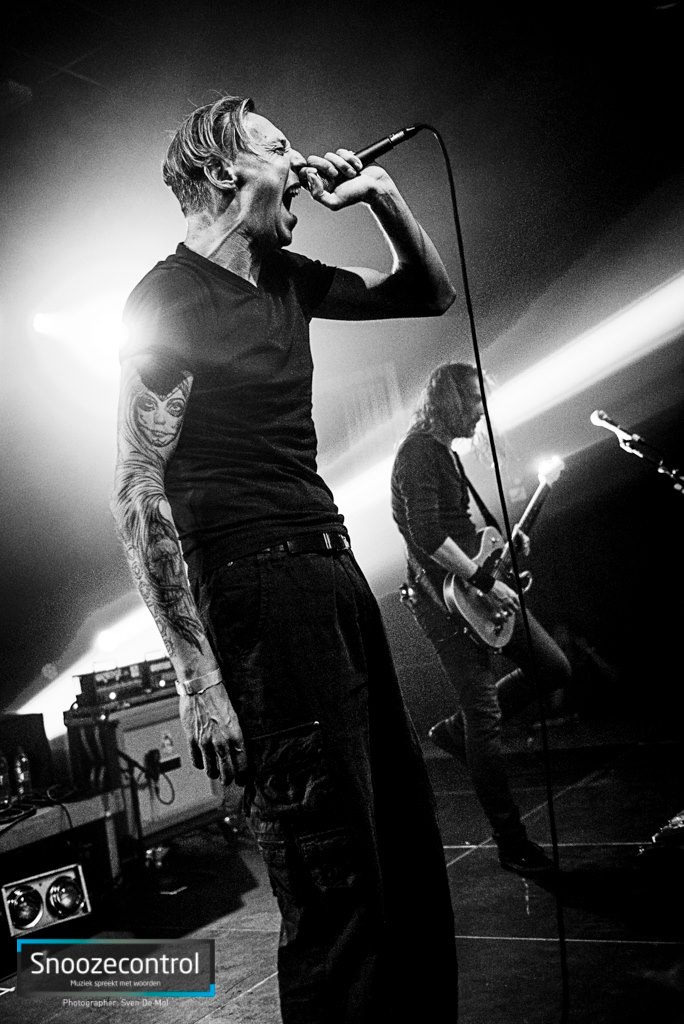 Freakangel is yet another electro/industrial band I was looking forward to see on stage. I already reviewed their live CD The Show of Violence released by Alfa Matrix (and loved it), so I couldn't wait to see my Estonian friends in action! They play with a live drummer and only have the electronics/industrial sound on tape. Count in two guitar players and a singer (Dmitry) who never stay at the same place and try to dive from the drummers stage or simply jump up and down. Used, The Ones To Fall, Dozen New Scars … They deliver one blow after the other. I notice that Dmitry doesn't make much eye contact with the audience, rages on, screaming like hell, fires up the crowd and doesn't stand still for one second. As the show goes on the drummer even jokes a bit about the push Ok icon on the big screen behind him (as one is already prepping it for the last band). Porcelain Doll, The Book of Violence and Parasite take their show to a climax. It was throwing one bomb after the other whilst activating a whirlwind on stage! They come back, just for fun and demands that the audience starts to dance on their smashing hit My Darling Bullet and so does everyone! This was the final blow and killed us all, leaving nothing behind for the headliner! What an energetic show!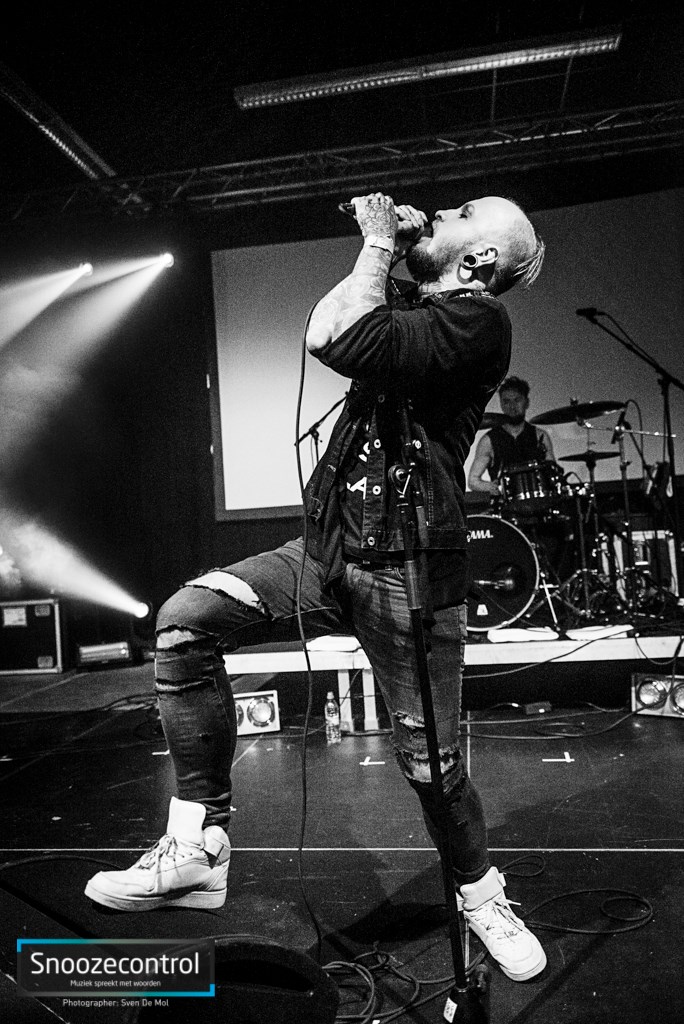 Merciful Nuns are once again headliner of a festival in Belgium and yes if you looked around you could clearly see that they had gathered the most fans (just count the T-shirts). It's clear that they are loved in our country! They are a bit special, however some call them a copy of The Sisters of Mercy and The Fields of Nephilim (if they are: than Merciful Nuns is simply a better version). They manage to create a special vibe around them on stage whilst clearly showing off that they really enjoy playing on stage. I don't know all their songs by heart, but it's very clear that they are loved and have a great interaction with their fans! I enjoyed it, but had to leave earlier to go back home to my wife and kids: driving 130 KM in the darkness after a magical night filled with the best performances! I simply wished more people would have joined us on this heavenly trip (but I know all was done to attract more people). The crowd was international, meaning the promo was well done, but seems like the people from our country are not enough motivated to move their feet and join us in this dark trip! I hope my words challenges some to come to the next edition!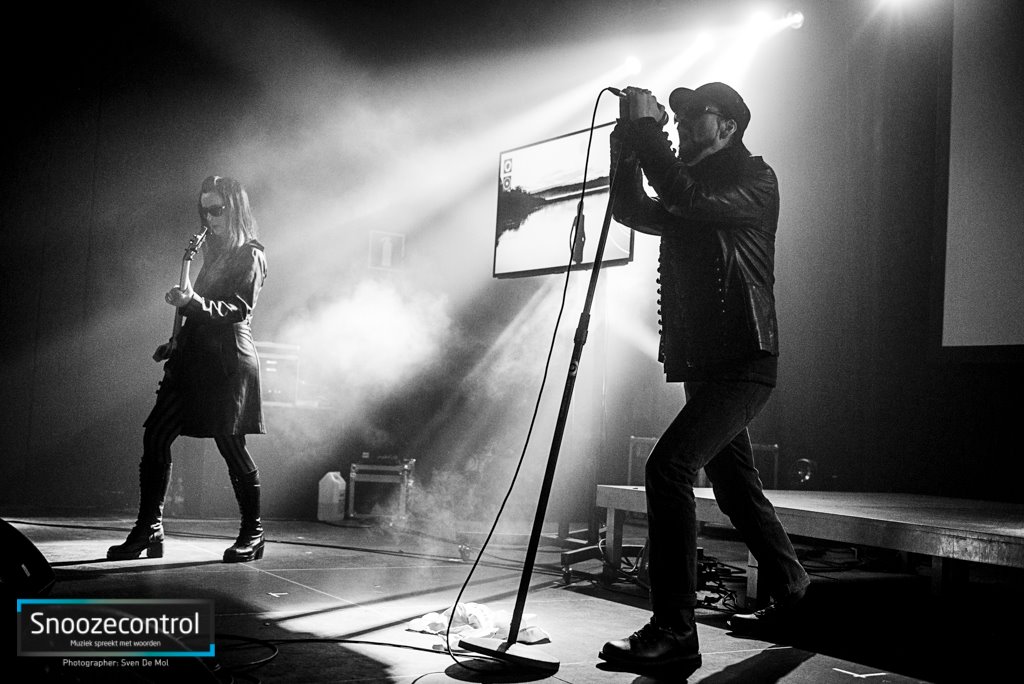 I have to thank the bands for their great performances, their energy, the cool audience and the gentle organization! THANK YOU!