English:
Festivals
Today is the last day of this great festival. I have an interview appointment with Einar from Wardruna and a short meeting with Clive Standen aka Rollo from The Vikings. Apparently one will do the introduction for the other one as they know each other from the series …
---
I could watch the soundcheck of Wardruna and noticed that not much is coming from a machine. They use some special handmade instruments to produce their special sound (with gigantic horns and some smaller ones). Einar needed to talk to Clive and somebody had to bring him to Clive. I was the lucky one to help him out and had an interview with him whilst walking from the concert place (it felt a bit like an interview with Tom Boonen after a race whilst still on his bake and on the way to the backstage, had to stop the interview a few times as fans wanted a picture and a short chat) to the MICX (a gigantic building for the Manga activities, movie section and signing sessions) where Clive had signing sessions and one hour of questions and answers with his fans. Once there I got the confirmation that Clive will do the introduction on stage with catchphrases from the series. After that I went backstage with Einar and started working out my interview and got it online before the gigs on the gigantic inside stage started.
I tried to catch the gig of Prima Nocta too, but once again the venue was filled and it was impossible to get in, the party was on and they went full throttle. Forgot to tell you that Isabel (singer of Breath of Life) is helping out at the merchandising selling stuff for Korpikaani (yesterday) and today for Wardruna (all will be sold out in 2 hours time), just pointing out that really everybody is helping at this very friendly and warm festival.
When Hano-Ah started at 19h she was all alone with her synth and her special machine that sampled her voice and gave it a special sound. The audience didn't react to it as they did with all the previous bands, even when she had a violin player joining her (Maria). It looked a bit too static and not really fitting for this festival. Our local girl did her best and sounded a bit like in the early 30's. The violin wasn't always in tune and I felt some nerves. Her voice goes up and down, high and low whist singing sad tunes. The audience seems very tired after 3 days. During the last song she finally left her synth, stood up and started to move a bit and give some visual activity (I was only allowed during first 2 songs in the pit and not able to crawl past 2000 people, so no pictures of this). Feel free to check our review from latest work or read over our interview with her …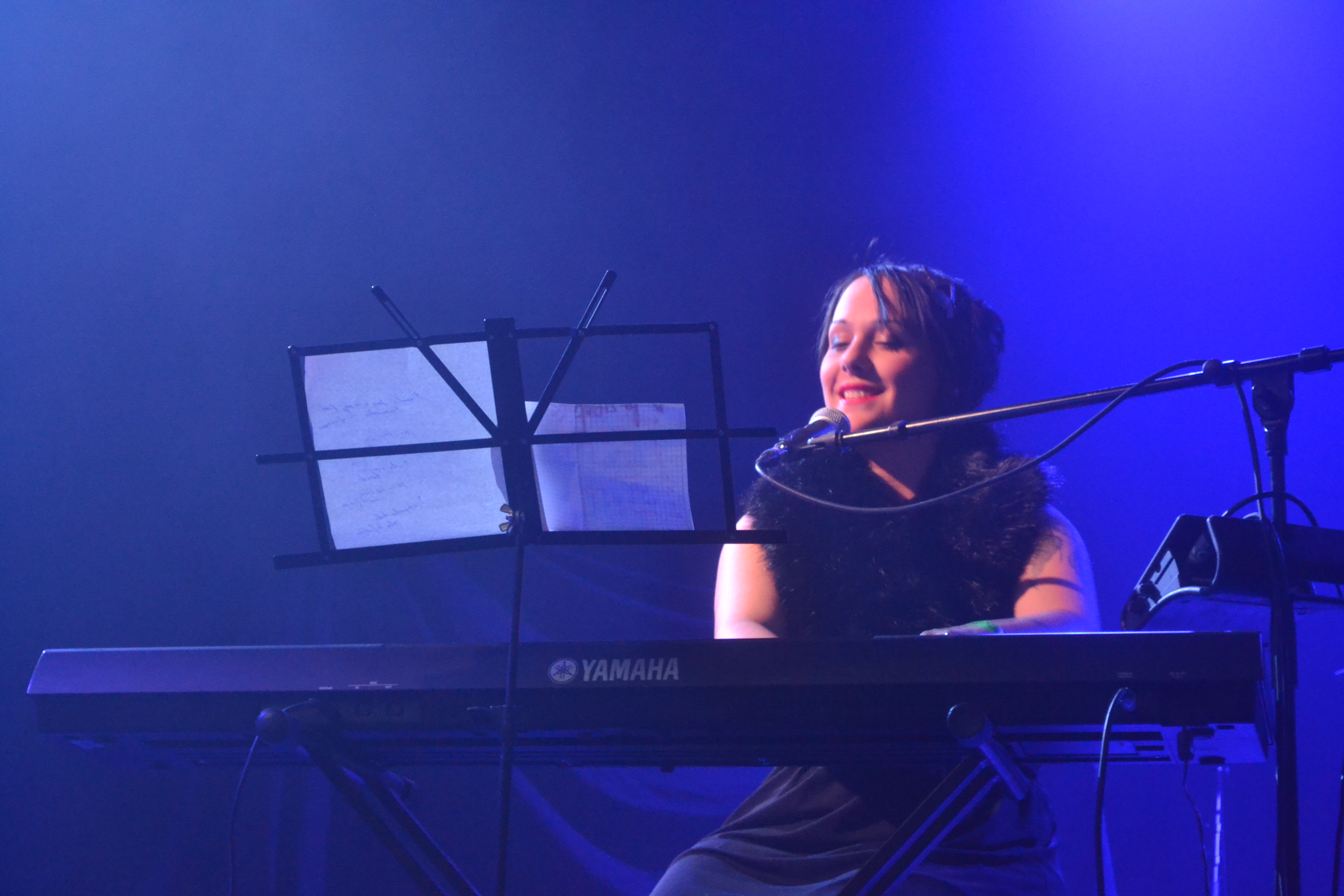 Rusalka Project was something I absolutely wanted to see as I already loved the CD and the comic. Karolina sings in Polish (her mother language) like an angel and is dressed like a blue Tinker Bell with wings and all. This is just the perfect match for this faeric festival! Mich playes the strings (and adds his Cretan influences), whilst the people strat to clap and fully react with love. It's a hit and I'm so happy for them! It's unleashing the fragility and her vocal talents in a total other way as with Skeptical Minds. The Shamanic drums by Christophe are very important as he fires up the crowd and knows how to lead whilst the flute (played by the son of Alain Poncelet) gives it a wider dimension. Mich also fools a bit around, does a magic trick with his guitar: changing it into a smaller one and making his fingers dissappear. When they already announce their last song it clearly felt like we could have digged a longer set and that means a lot of positive things! We are hungry for more! I wish them a bright future with lots of gigs in France, The Netherlands, Italy, Poland, Greece …
I have seen Acus Vacuum at the previous edition (outside and at the market inside) and totally enjoyed them. In 2 years time they have grown and matured. The big stage feels like their home and they act in a perfect way. The gigantic bagpipes gives it a Corvus Corax touch: filling the hall in a warm way and firing up the still growing audience (venue is sold out). A very sexy belly dancer brings more heat and plays with fire, giving their show a visual explosion. The guy behind the percussions take over the vocals every now and then and also fires up the crowd or explains the story behind the songs. Ghislain from Naheulband also jumps on stage with his Shamanic drums and recalls their anthem, making it harder to shut up the fans afterwards. We just have lots of fun while they create another highlight. After that I even hear Wardruna moment during one of their songs, but slowly work their way to yet another musical outburst. The medieval party is on fire. The place is by now packed, filled with dancing people, jumping, clapping, shouting and simply having the time of their life! The massive chants from the fans impress me deeply. It's hot, hotter and hottest! Wow, even some crowdsurfing and a moshpit! I can see a rush towards their CDs and T-shirts, selling out and totally deserved! And … launching a new anthem screaming: sanglier, sanglier! Njam, Njam! Creating a new anthem and getting a massive feedback, almost making me deaf. They totally deserved their spot, what a highlight!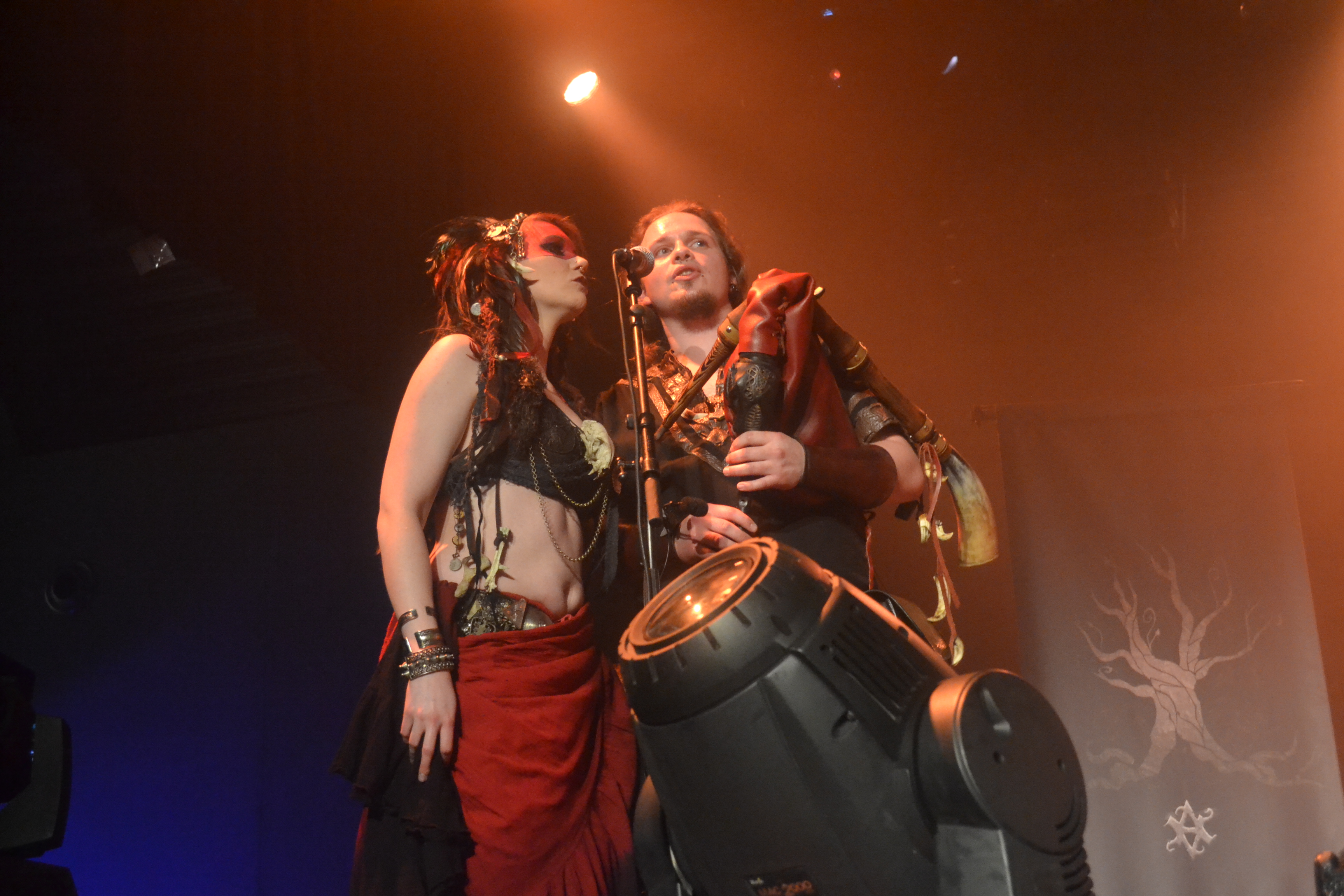 Another highlight and last band for this festival is the long awaited gig of upcoming legend Wardruna! Just as I stated before Clive Standen repeats catch phares from the Viking series and introduces them properly whilst making some women really hot with his presence. They start with a new song called Tyr, using their massive horns to create their special sound, nailing us all to the ground. Their live feel is very impressive, although the mucis is not festive it haunts you and drags you into their dark world. They play with knowledge and passion. The female vocals are great, but Einar's voice almost sounds like Brendan Perry from living legend Dead Can Dance. Close your eyes and hear it in the way we all hear it. Some instruments also get us closer to this magical sound. Warduna focusses on the Viking sound and Viking mood and it's an impressive live feel. The reactions of the audieence says it all: loud, warm, heavy and filled with love and passion for this band. It's clear that lots of people wanted to see them here and got rewarded in the best way. The rituals, folkloric sound, traditional instruments - it all fits in like a handmade glove! The percussions and special instruments that Einar uses are heavenly. We all dive into their world. Einar chooses a sad song to close their impressive set: a song about letting go, talking about his death: we have to let him cross from the world of the living to the world of the death. It's just like what Wardruna stands for: reworking a tradional song and injecting it with new sounds and new feelings. That is what Wardruna is about and not about reenactment! For us it's a sad moment as we – indeed – have to let them go, say goodbye to Trolls edition 2017!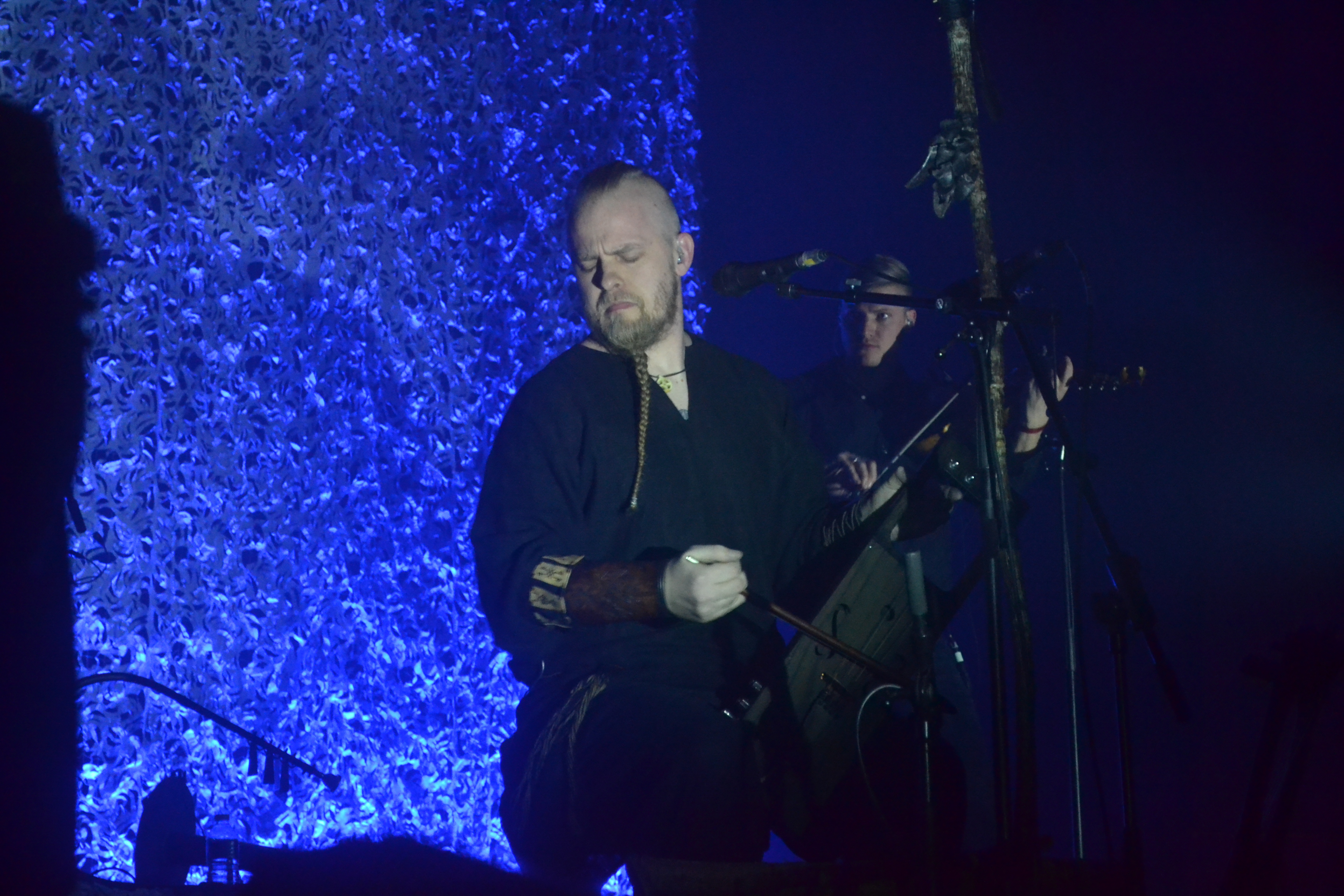 This is also me saying goodbye and hoping you will be here for the edition of 2019!
I have to thank Didier, the crew, the director, the many helping hands, the bands, the other pit members … THANK YOU! And thank you people who come here, create the special feeling of this festival and making it a sold out event with the right feel!
I leave you in tears of joy and happyness, touched by all the good things!
More info:
Interview with Didier Cz about the festival
Sunday 16th april: