Interviews:
English
Ancient Myth is one of a lot of exotic bands that have never played in Belgium before and will perform during the Metal female Voices Fest in Wieze (in October 2016). Time to get some answers and for those who have never heard of them: time to discover them!
---
Michal: to what myth is the name of your band referring to?
In the early days former members named the band. They loved NIGHTWISH, Rhapsody of Fire and Royal Hunt very much and thought that the sounds and visuals of "Ancient Myth" are very similar to these bands. So, back then, I think we didn't have anything mythical in mind regarding the band's name. But now, I want to put more meaning into our band's name and try to base our lyrics on various global myths.
How did it all start for you?
Regarding my musical experience, I started taking classic piano lessons when I was five years old. I, then, attended a Catholic mission school from primary school to high school where I sang as a chorister during my school years. In 2008, the band's Japanese label boss introduced me to the band as they didn't have a vocalist for two years. At that time, I moved to Tokyo (my hometown is Kyoto). It was very good timing for all of us.
What inspired you and mad you join a band (and especially this genre)?
I had my own band until 2004 while I lived in Kyoto. That band was also a symphonic metal band with a keyboard player, influenced by the same western HR / HM bands and having the same taste. That's the reason why I joined them.
You are a female fronted band from Japan, what is the status of a woman in Japan: does she have to be housewife or can woman actually be the head of a big firm and reign over man?
I think Japan is a backward country in terms of women's empowerment.We can choose our future, but in reality, only a few women can cut their own path.
Once we decide to have a baby, we must give up our carrier. The reason is very simple – we don't have enough public childcare services and many children on waiting lists in metropolitan areas. To me Japan is still a male-dominated society. The chance for a woman to become the head of a big company is very small. It also means that men got to work, women stay at home and take care of their children and parents, too, if they can't get into the public nursing service or have enough money to pay for a private nursing service. I hope that the Japanese government will do their utmost to improve the standards of their facilities and services.
Have you ever been thinking about getting your music into a movie score/soundtrack?
Why not? I always and deeply hope and wish for it, because we got inspired by so many movie scores / soundtracks, game music.
How would you describe your music towards people who have never seen you on stage?
Symphonic metal from the Far East, the melodic contours contain a lot of elements from Japanese music. Our performance shows stasis and dynamics, same as ours songs present light and darkness.
A lot of changes happened, some people left, new people came in. Can you tell us how it all happened and how you coped with it?
Most former members left the band for general reasons. If, in Japan, you don't have work experience as a full time worker until you are 30 years old, you usually won't get a good job. Most Japanese focus on providing for their retirement arrangements, so … sometimes you have to quit the music. It can't be helped. Nevertheless, farewell goes always hand in hand with new encounters, and we haven't lost our courage to focus on the band's future. Keep the heart struggling.
How come we get 3 versions of the new album, it must have been a lot of work?
The original idea for three versions was suggested by Mr. Jörg Tochtenhagen (our label boss). He said that Japanese is interesting for Europeans, but English is most compatible between the other languages in Europe. Yes, we had a lot of work to do – we have 11 songs with vocal part which means that we had to finish 22 songs!
How did you become a member of the fastball family?
One day, the label contacted us by email which happened at the right time for us. I think it was destiny. We talked about the details, and both of us felt that we could make it work and do some new and good things together. Hence, we have become a member of the Fastball family.
Can you tell us something more about the album?
Our new album features nine re-recorded (which means completely re-arranged) songs, two new songs and two new instrumentals (which will guide you more into our grim mood).
All three album versions contain 13 songs as noted above. We have two language versions for 11 songs (+ two instrumentals), each version in form of one new album, digital download only. The CD version is a mixed version in two languages. We selected which language fits for each song and put them all onto one CD.
Can you say something about the artwork?
The front cover photography of the English and CD version is made by the Japanese gothic photographer, Mr. Hiroshi Nonami. I have been a huge fan of his for 20 years now. My long-cherished dream has come true. He also shot photos of some Japanese big bands like Onmyo-za, NIGHTMARE, LUNA SEA. For the front cover illustration of the Japanese version, the artist "AZ Pt" gave us another sleeve for the third album. I think that a Japanese illustrator will give a good impression of Japan (of course, Mr. Hiroshi Nonami's work also presents Japanese influences). Both front covers are really great. All the other artwork (CD booklet, etc.) is my work.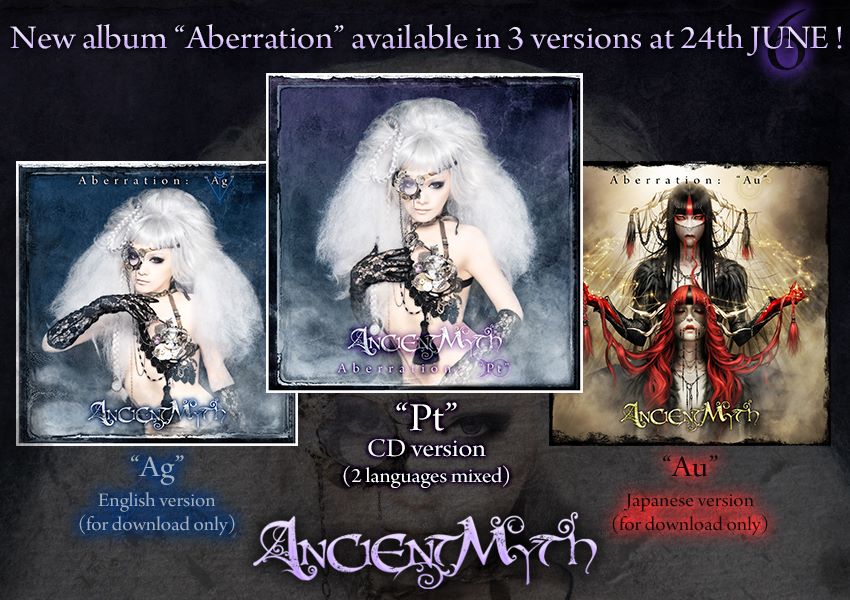 Who decided about the clip for "Aerial Memories: false", was it inspired by Japanese horror movies?
I made the decisions about and directed all video clips we made so far. I wasn't inspired by Japanese horror movies.
Who chooses the beautiful dresses? Are they made especially for you?
Thank you for your kind words. I am responsible for costume design and styling. Sometimes I make the dresses by myself or ask a friend to do so. Sewing is fun!
You sing in Japanese and English, how do you cope with that? Is it hard to combine both languages?
English is not my native language. Therefore, it is very hard for me to sing, write or speak in English and make it look like it's nothing. When we started recording the vocal parts with English lyrics, we re-arranged the melody line for the English versions to make them matching the vocal sound. Japanese is a very difficult language even for Japanese. Our language is totally different from any other language.
As you are from Japan, has anybody asked you yet to write a track for any Manga series? Wouldn't that be a dream?
Not yet. However, I would like to get into contact and cooperate with them.
It will be your first time in Belgium, what do you expect?
If I have time to spare, I want to make a field trip to Koninklijke Academie voor Schone Kunsten van Antwerpen. I love Belgian fashion designers, especially "Antwerpen 6" (Ann Demeulemeester, Dries van Noten, Dirk Bikkembergs, ...). I hope that I will have time to visit their shop. Of course, I expect a lot of chocolate and DANDOY's waffles (with a big smile).
Right now you just finished working on the end mix of a new album, how will it sound like? Will there be a main story, special artwork ? When will it be available?
We kept working and didn't sleep until the final deadline! We felt that this sense of accomplishment is immeasurable. Why, because we finished 24 songs (11 songs with vocals in 2 languages + 2 instrumentals)!! Now, a few weeks have passed since we finished the mastering, and we listen again to our new album and it never gets old.
It isn't a concept album, but you can spot some hidden but consecutive ideas throughout all songs starting from track 1 (opening se). Release date is June 24th for all versions. Please look forward to it!
What can the crowd expect from you?
You will feel our atmosphere without special methods. We will bring you into our story.
If you could add one name to the list of programmed bands (MFVF in October), who would it be and why?
Temperance (Italy), because their guitarist, Marco Pastorino, sang the male vocal part of our song Shade in the dusk from the new album. I would like to have Marco as our special guest.
MFVF is known for special performances, special duets. If you could ask somebody on stage; who would it be and why?
In case of female vocalists only, I would wish for Saeko to be with us. She is a Japanese female vocalist and front woman and she helped us checking our English lyrics.
Crescent Lament will also perform, do you know each other?
No, but I'm really looking forward to meet them, because I'm very interested in them!
How did you get in contact with MFVF?
MFVF is the festival where I long to be. This year, fortunately, we release our new album in Europe and I was bound and determined to perform on stage at the MFVF. Then I clicked the button on the MFVF official webpage. Simple!
Via what kind of channels can people get into touch with your music (next to Facebook)? As far as I could see, there is only YouTube, nothing on Spotify (yet)?
We will have digital and physical distribution and promotion in Europe (worldwide for digital) for our new album. Please stay tuned, check our Facebook page!
https://www.facebook.com/ANCIENTMYTHofficial/timeline
You sold out a few gigs in your own country, but how hard is it to tour, actually?
The Japanese indie heavy metal scene is very small and we sell our tickets in a small market. Without big promotion and a lot of word-of-mouth advertising within the same group, etc. But overseas, we don't have enough fans because we have never released an album in Europe nor have we done any promotional work up until now. Now, we toe the line.
How good do you know Belgium?
First my heart goes out to the victims of the terrorist attack and their families . I pray for a more peaceful world. As mentioned above, I think highly of the Koninklijke Academie voor Schone Kunsten van Antwerpen because I studied fashion. You are the centre of the EU and you have a king, I think that Belgium has a lot of tradition, but also innovation to show.
Is there something you want the world to know about you, your lyrics or a certain message?
Our new album's last song skoal! is mixed with traditional and catchy melodies and from the English version you learn that the lyrics are inspired by "memento mori". "Now is the time to sing a song with louder voice"Radiance of life is here for you to drink We'll share this moment and song forever We'll sing and shout out our souls! Until the end" Let's sing together... to keep our lore!
Thank you and see you on stage at MFVF!
Discover them at The Metal Female voices fest in Wieze:
http://www.metalfemalevoicesfest.be
Leaves' Eyes Official with their amazing Viking ship show!
Tarja Turunen
Battlelore (come back!!!)
Spoil Engine
Savn - Official
Artrosis
KONTRUST
WHYZDOM
MaYaN
Crescent Lament 恆月三途
Mercy Isle (Usa)
Skarlett Riot (Uk)