Interviews:
English
It took some time before I could catch them for an interview, already tried as our part of the promo for Metal Female Voices fest. Well, they were busy, recorded a new album and tour a lot and that is always a good sign!
---
My logical starter when I interview a band for the first time: what does your bands name mean, what's the philosophy behind it?
Gaze: nobody has a clue! We were just looking for a band name when we're having a Barbecue with all band members. No decent name came to our minds so we took an English dictionary and threw it in the air. It landed on the "Spoil" page. Second throw landed on the "Engine" page. Well hey, there it was. The Spoil part is the rock 'n' roll part, the Engine is the sonic machine. And as you see, we always let fate decide!
You lost your singer and had to do look for a new one. First of all: how did the leaving come in? And secondly it must have costed a lot of energy to find a new one?
Gaze: Well, Niek ran out of metal batteries and he announced that it was time for him to pursue other endeavors, so who are we to stop somebody. A man's go to do what a man's got do! We made 3 quality metal albums together and we're proud of that chapter with Niek. To replace Niek, it wasn't a matter of gender but of quality. We were only willing to continue with the band if quality could be guaranteed. And so we did!
Additional question: why now a female fronted singer?
Gaze: See previous answer please. And beware, Iris has more male habits than most of us could imagine.
You have a nice history or record labels: Sonic Angel, Roadrunner Records and now Nuclear Blast, how did it all happen?
Gaze: When signing with a label, we only look for 1 thing: excellent promotion. Let us do the music; you do the marketing and promotion. And if you work with bigger labels, that promotion is more of a certainty. But not guaranteed! Signing isn't easy as well. Actually, I know Jaap (Wagemaker, Nuclear Blast A&R) almost for a decade now. These lads do not sign overnight. "How does the band look, sound, feel…? " "Do they already have a local fan base?" Everything is evaluated. And it should be! We cannot deny that Iris also plays a vital role in this latest signing. The vocals are great, she's a positive player and hey…it doesn't hurt the eyes looking at her.
Your album Antimatter, the single Breathe was a hit on Belgian radio, so how hard was it to work on new material, with as extra a new singer?
Gaze: actually, it went quite natural and easy. New blood, new ideas, new riffs, new songs. Some songs go fast (like Disconnect), some take months to be written (Doomed to Die). In the end, if all 5 band members are satisfied, then we have a song.
I described your sound as a more American sound, with influences from Tool to Marilyn Manson. Am I close or do you describe it otherwise?
Iris: You describe it however you want! I love Marilyn Manson. So I see that as a compliment.
Vocal wise it comes close to a fight between a panther and a lion, but Iris can also be a nightingale, so how will it sound like towards the future?
Iris: I learned a lot after we recorded the album so I'm really looking forward to try new stuff on the next one. Who knows.. We don't even know it yet!
Gaze: she definitely claws like a panther, that's for sure!
Why not call The Verdict: survival of the fittest? Somehow it feels like a sexier title?
Iris: We heard that a lot and it crossed our mind. But we decided to keep the title short.
Who are the Singing Sirens, as I hear more than one voice on it?
Iris: It's all me. We recorded in layers and different vocal lines. Our producer Ace Zec had some really valuable input in this one.
The last EP, called Stormsleeper, was a hit and now you just released a new single called 'Doomed to Die' how are the reactions so far?
Iris: Some people love it, some people hate it. We knew that before we released it. If you try something different you'll always get positive and negative reactions. But for us there are far more positive people than negative. So that's good.
How did you manage to make such a cool clip (Doomed to Die) and who came up with the idea?
Iris: We discussed the idea for a long time. I think we had like 5 different scenarios before we came up with this one. We wanted to do something different with dancers in it. So we contacted choreographer Tobias Sanders if he wanted to work with us. He and his dance crew accepted the challenge. The car shot was a very logic one for all of us. We think Doomed To Die is a song to play really loud in your car while you're driving really fast. Add some band shots and there you go: our video clip.
You were the support act for Motörhead, how did you react to Lemmy's death. Didn't you want to record a track to honor Lemmy?
Iris: It's always sad when a legend like that passes away. We have some great memories with Lemmy. When we were support act for Motorhead at Vorst National our drummer accidentally ate some of his union soup. We heard Lemmy screaming from the other side of the room: "Hey you! That's my onion soup!"
You also toured with Megadeth and Fear Factory, played gigs at big festivals like Graspop, Masters At Rock, Pukkelpop and Suikerrock, Metal Female Voices fest, ... What was the finest one and why?
Iris: They were all amazing. But Graspop 2016 was a very special one for us. Everything was just perfect in the moment. The sun started shining after a full day of rain, the vibe on stage was amazing and the audience loved it.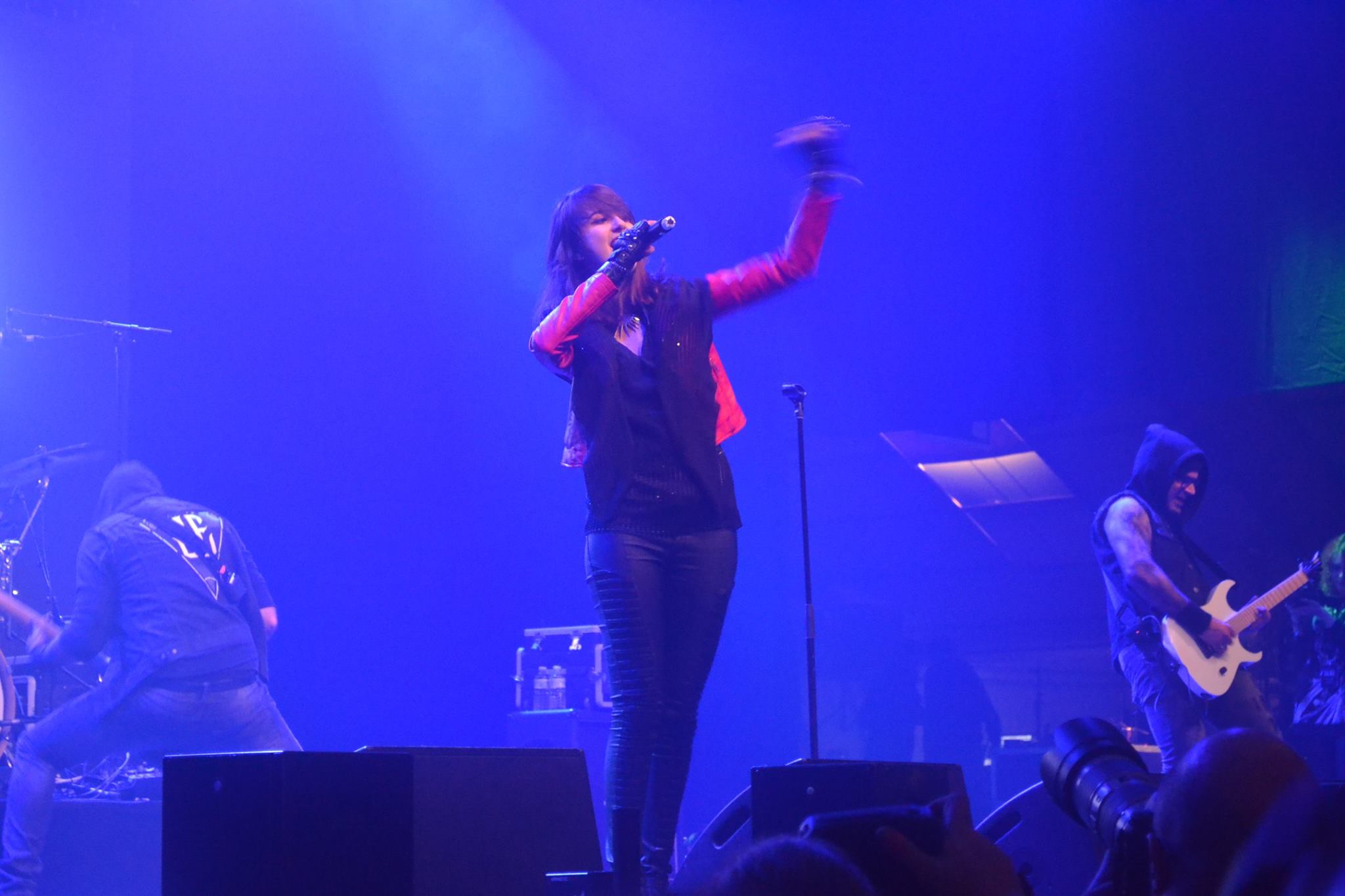 Do you have any great backstage story?
Iris: We have many. It always seems to start with a bottle of Jack Daniels...
Gaze: Mostly live stories actually. Our former guitarist Nick brought his mother once to a show. During the show, she broke up a mosh pit. She thought the dudes were fighting. And there was this guy once, standing in front of me, staring at me with his mouth wide open, all the time. I thought I was playing a jaw dropping show! But actually…he had broken his jaw in the mosh pit and couldn't close his mouth anymore. Ouch!
Would you invite a guest on the next album or is that too much asking (Karolina from Skeptical Minds for example)?
Iris: At the moment we're not writing new songs. We just want to focus on promoting this album and playing shows.
Can you say something about the artwork of the new album, as you said you wanted to create something totally new for the band?
Iris: Yes.. We felt like the artwork should fit the music for 100%. Before we worked with Heilemania we tried creating something with another artist. But it was not the 100% match we were searching for. That's where Heile came in. The only thing we told him is that we wanted it to have a Wastelands/Post -Apocalyptic feel. He did an amazing job.
What is your next big dream?
Iris: We're really excited to tour Europe with Prong. The band is in a good place right now. We get promoted very well thanks to Arising Empire and Nuclear Blast.
Anything to close this interview, something you wanted to talk about?
Iris: We throw a release party next month to celebrate our new album: May 20th at Club de B Torhout. You're all invited! Our friends in The Charm The Fury and a relatively new upcoming Dutch band named Static will join us that evening. CU ALL THERE!
Pictures by Filip Van Muylem at Metal Female Voices Fest 2016.