Interviews:
English
Erik Vandamme
25 juli 2018
"In addition to combining high-tech ingenuity with a high dose of charisma and fun, Schizophrenia literally seemed to let go of all the burdens of that very difficult period of their backs. And sent back to where they belong at all times and forever. The road to eternal fame is completely open on the basis of this high-quality concert of the band, provided that these guys just continue to find each other as was certainly the case on AMF." that's what we write about the concert of Schizophrenia at Antwerp Metal Fest. We also had a nice chat with the band:
---
2017/2018 was apparently a turbulent period.. Tell us a bit more about it. Lorenzo, what about the hearing problems in the meantime?
Lorenzo: Well there was lots of stuff going wrong because of my health. The band could not play anymore, we had to cancel some stuff. And everything stopped for a while. Because of that it seemed that the band stopped with what they were doing. At the moment we were just trying to go forward with it, pretty confusing. But everything is just fine now after a really difficult time for the band.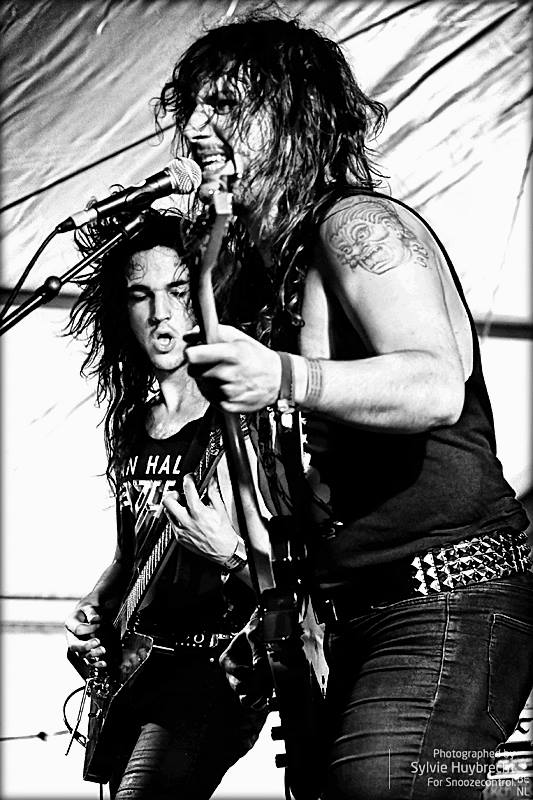 2018, however, starts promising. Final AMF contest? How did everything go?
Yes, 2018 started pretty well. We haven't played live shows for almost a year due to our drummer's medical issues so we focused on the writing of the new songs but then at the beginning of this year we decided to apply for the AMF contest with the help of Vincent from Carnation behind the drums and test the new songs live. Needless to say that it went really good, since that same AMF contest brought us here. (at AMF). Now that we have finally played with the original line up and that we havo no more health issues in the band the futur seems even more exciting and hopefully promising!
May I ask what actually went wrong in the past, because Hammerhead was on the way to become asbig as Evil Invaders now (I thought).
It's just a complete difference sound, different name. Schizopherenia is just a other page, it's not Hammerhead anymore. We are a total other band now.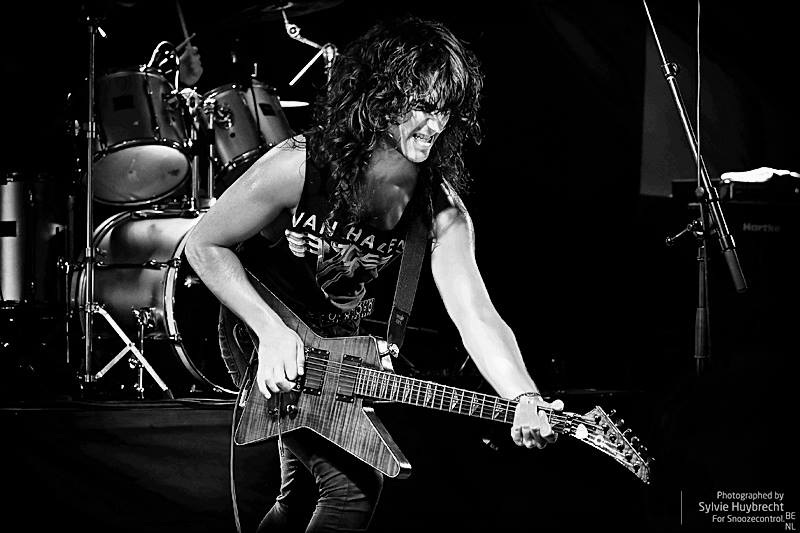 It's wonderful to see a band now who loves to play together. When I saw you guys at 6 year ELPEE I missed just a little bit more, the spontaneity, but I saw and hear a lot of progress and that only in just a year or something.
We now feel we more comfortable and we finally can go on with what we want to do. Focus on what's most important, the music. We think that we now finally found a way to get away from those difficult times, we were still in that time at 6 year ELPEE. But now its all passed us and that is the big reason why this concert now was going so much better. We can focus more on our music than last year since we have Lorenzo back at full force after his hearing injury.
Let's take a look at the future, will there be a new album later on this year?
We will start recording a new album in September. We will record an EP at Project Zero Studios which we plan to release as soon as we can. We are looking for artwork, label and so on. We are really excited to work on this album and make it totally killer!
I also heard that you can play at the Carnation release show? Tell me something more about it? Are there any future plans? Where can we still see you live in the following months?
Yes we are very thankfull and happy to have the opportunity to play on the 25th of August in Aarschot at the Carnation release show. We are really looking forward to do this a there is an awesome line-up, sharing the stage with bands like Bütcher, Warbringer and Lemuria and of course to finally hear the new Carnation album live. We've always been good friends with these guys. However our relationship also touches the musical activity. Vincent the drummer from Carnation played in the previously known Hämmerhead and helped us a lot while our drummer couldn't play. He replace him for a couple of essential gigs also the one that allowed us to play here at Antwerp Metal Fest. Secondly, Bert the guitarist will record our upcoming Ep at his studio Project Zero.Indeed after their release show, around september, we will focus on recording our new songs to finally unleash them! We already played some
of them live and we're happy of how the crowd reacted. At the moment we have no other shows booked as we will be busy with the recordings and hopefully
our EP will be released earlier next year. After that we just want to play live shows as much as we can because that's what we like most!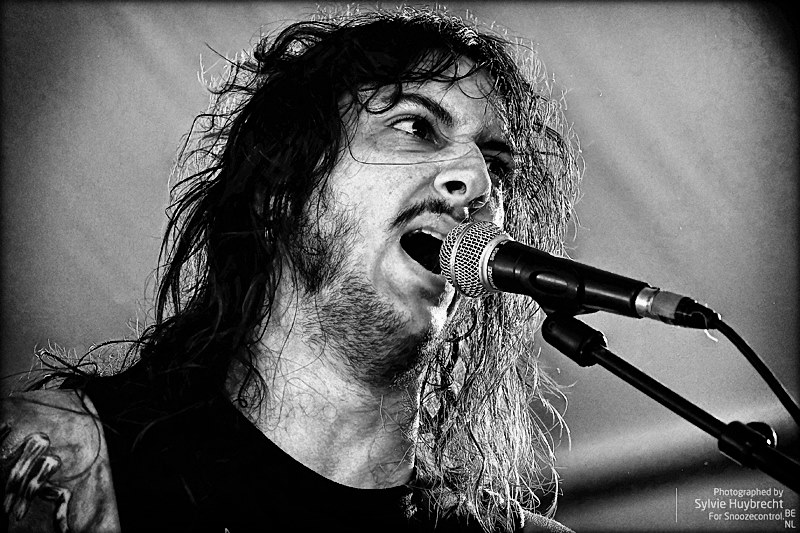 You open the AMF festival in the marquee. Your opinion about the line-up, bands that you absolutely want to see?
It was really great to open the marquee and be part of this awesome festival. We were also surprised to see so much people this early and even hear some of hem sing along! The line up was really great having Testament, Pestilence, Nile, I am Morbid and the newer band as Dr Evil Dead and so on. We are also very happy to play in a festival with so many great bands from Belgium as for example Leng 'Tche and Bark. The idea of participating as a whole in the development of the Belgian scene is exciting. Of course there is Evil Invaders and now Carnation entering the international level and we
would really love to put our brick in the wall of this great Belgian uprising. Furthermore, we are also happy to be a band that crosses the fictive Belgian language border with member of the different regions of Belgium. Hopefully all this will help to unify at least the metalheads of Belgium as part ofone country."

Is there a reason why in Belgium it's difficult play at by example Graspop Metal Meeting while in Germany bands like Dust bolt who are great to, just play at Wacken?
Well, to be honest I've seen quite a lot of Belgian bands playing Graspop. Like Evil Invaders or Carnation for example. But that's true there are not many traditional metal bands playing these big festivals, it's mostly hardcore or metalcore bands. I guess it's the trend of the moment so they might have some more space at events like these.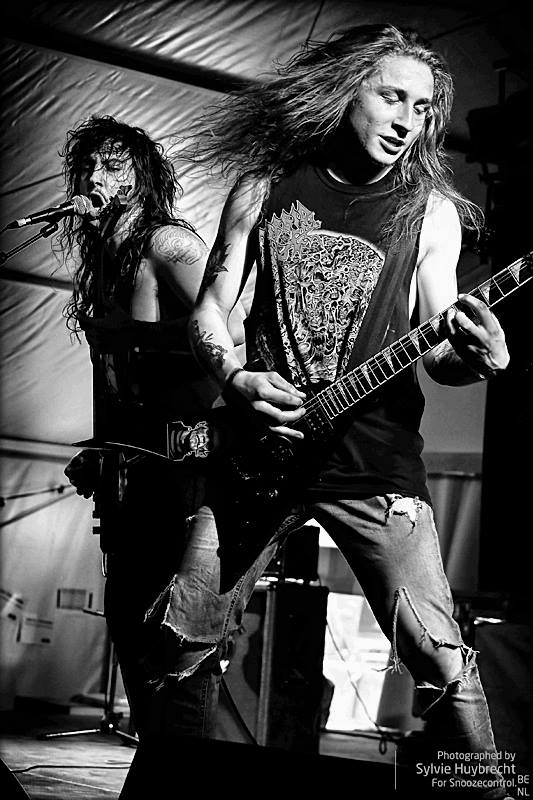 My last question. Is Schizophrenia ready to take its place, which the band has already earned for many years? How do you see yourself in other words within ten years? What are the ultimate ambitions?

The most important thing is what we keep doing what we really want to do. Something that we all 100% feel good about. Of course you can make some compromises, but we never going to sell our soul to commercial . If we don't want that. It's just the thin line between do what you like, and go forward. We see where we get, but now we finally ready to really go forward after a difficult time we think.
I think it's important to keep this band together, you guys are awesome. thanks for this nice interview.