Nieuws:
Festivals
Jens Deklerck
2 maart 2019
De line-up voor Dunk! Festival 2019 is vandaag weer een nieuwe naam rijker. Het Italiaanse Ufomammut is de tweede headliner die door het Zottegemse festival wordt bekendgemaakt. De trouwe Dunk!-ganger zal deze band zeker al kennen. In 2014 mocht de band de ondertussen bekende (inderdtijd kersverse) thuisgrond van het festival mee inwijden. Dit jaar komen ze terug... als absolute headliner.
---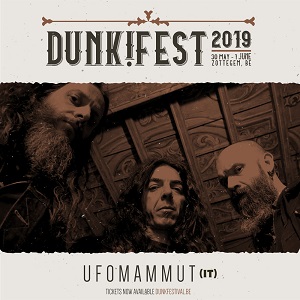 Ufomammut vervoegt op de affiche de volgende reeds aangekondigde namen:
Alcest
A Swarm of the Sun
Baulta
Bossk
Coastlands
Fvnerals
Gifts From Enola
Go March
Haester
Jardín de la Croix
Jean D.L. & Karen Willems
Jozef Van Wissem
Malämmar
Osorezan
Paint The Sky Red
Shy, Low
Silent Whale Becomes A Dream
Sistemas Inestables
Tangled Thoughts of Leaving
This Patch Of Sky
Wanheda
Zhaoze
Dunk! Festival 2019 gaat door van 30 mei tot en met 1 juni. Voor meer informatie over de nieuw aangekondigde band verwijzen we door naar deze pagina. Alle informatie over het festival, inclusief tickets, kan je terugvinden op de Dunk! website.