Previews:
Festivals
Sylvie Huybrecht
9 juni 2017
Hier bij Snoozecontrol verblijden we jullie graag met nieuws over de grote festivals, maar tegelijk verliezen we kleinschaligere initatieven niet uit het oog. Neem nu Loco Loco Fest in Opwijk.
---
Loco Loco Fest is een indoor (!) DIY festival dat punk, metal en alles daartussen of daarnaast een plaats geeft op de affiche. Verdeeld over het groot podium in de zaal en een kleiner podium in het café van Nosta treden op zaterdag 10 juni maar liefst 14 bands aan die elk op hun manier het kot zullen doen daveren. Voor iedereen met een gescheurde broek is er wat wils. Chileense thrash, Belgische garage of Britse punk: vergeet dat lekker weertje buiten maar even en kom het uitzweten in de pit. Dat het bier rijkelijk zal vloeien staat vast.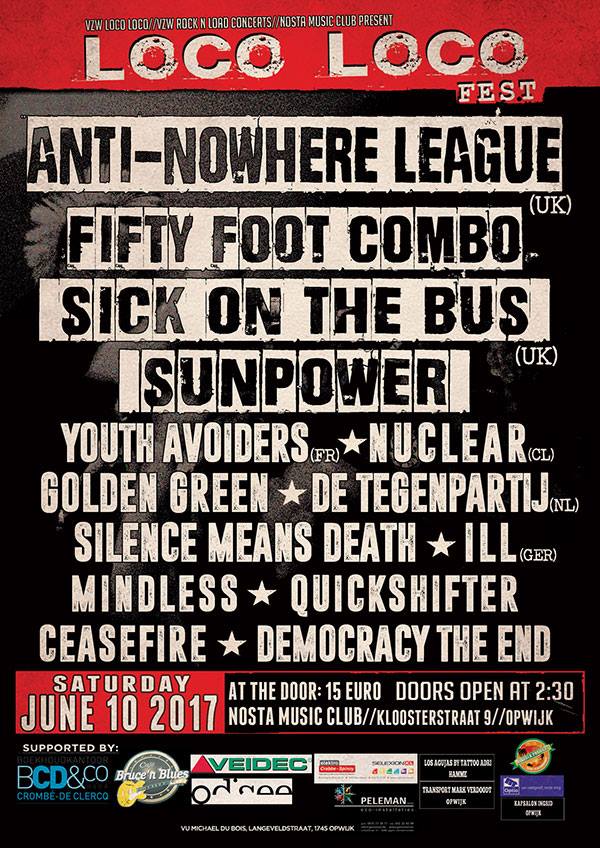 De volledige affiche ziet eruit als volgt (start om 14:30):
Anti-Nowhere League (Official) (Uk-punk)
Fifty Foot Combo (BE-garage/surf)
Sick On The Bus (UK-punk)
Sunpower (BE-hardcore/punk)
Youth Avoiders (FR-hardcore/punk)
Golden Green (BE-punkrock)
Silence Means Death (BE-crust'n'roll)
Nuclear (Chile-thrash metal)
CeaseFire (BE-d-beat punk)
De Tegenpartij (NL-punk/hardcore)
Mindless (BE-rock/grunge)
Ill (GER-punk/hardcore/fastcore)
Quickshifter (BE-hardcore/metal)
Democracy – The End (BE-punkrock)
Entree: 15 euro aan de kassa.
Nosta, Kloosterstraat 9, 1745 Opwijk.